Goggles for Docs Australia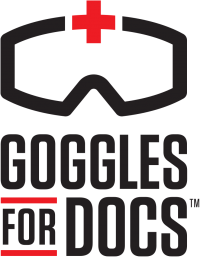 Australian skiers and snowboarders are repurposing their snow goggles to help frontline workers in developing countries during the coronavirus crisis.
Goggles For Docs Australia is the Australasian arm of the USA Goggles For Docs campaign that has donated over 44 000 goggles to health workers in over 550 hospitals and clinics in need of eye protection during the Covid-19 crisis.
Goggles for Docs Australia is lead by long time Sydney activist, Neen Weir, who is, herself, a passionate skier and Redlands ski mother.
"Where the number of Covid19 cases overwhelm a hospital system it is dire and doctors are often desperate for eye protection. " said Neen Weir. "Gogglesfordocs is calling on Australians to help us get goggles into hands of those who need in and bridge a gap during a world scarcity." " We can make a difference one set of a used snow goggles at a time "
Safe Drop off boxes have been set up from Palm Beach to Jindabyne and from Torquay to Hawthorn. ( refer: gogglesfordocs.com.au website ) Snowboard brand, Burton Australia, have also matched the first 100 community donations one-for-one for with a new pair of Anon goggles. Shipments have been delivered to surgeons within Australia and now parcels have been shipped to Indonesia. Vetting is done via the US team and demand exceeds supply.
For further information please contact Neen Weir 0410 511 411
Website: www.gogglesfordocs.com.au
Insta : @gogglesfordocs_ausnz