Regional Interschools Wrap Up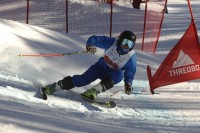 The NSW, ACT, QLD Regional Interschools are over for another year and sights are now firmly on the coveted State Championships to be held in Perisher from August 20.
Nearly 3,500 children participated in the three regional events covering Northern NSW/Qld, Sydney and ACT/Southern NSW across five discipline areas with Alpine being the most popular. Children from a range of ages from Kindergarten to Year 12 represented 418 schools with great gusto and pride.
This is the 32nd year of the Interschools championships and the event goes from strength to strength with new initiatives being introduced each year to keep up with the changing face of Australian snowsports. One of those initiatives is the introduction of five Interschools Ambassadors who are busy out in the field talking to the next generation of skiing and snowboarding champions.
The Regional event was supported by more than 650 volunteers that filled roles such as start and finish referees and gate judges. Thanks go to those parents and teachers that braved the cold and windy conditions on most occasions and then sweltered in the balmy conditions on the second last day of the ACT/Southern series. Most uncommon for an interschools race said the diehards!
In excess of 1800 medals were handed out to teams and individuals of which many are now taking pride of place in many lounge rooms across Australia and hanging over the backs of beds as a reminder of the fun days competing at Interschools.