The AMASDF is dedicated to providing practical support (for equipment, training, and resources), to up-and-coming winter snowsports athletes from the age of 10 to 18 years old, across all disciplines including disabled snowsports.
CLICK HERE TO APPLY

Application Information
• Applicants must reside in NSW, QLD & ACT only. The AMASDF Scholarship is no longer open to other states. Residential states will be checked against current SSA/SSO membership numbers.

• Applicants born between 2000 to 2008 need only to apply.

• Scholarship Amount: The amount per athlete will be determined by the AMASDF Committee and is subject to the amount of money raised during fundraising events.

Application Due Dates
• Online Application Now Open

• Online Application Close: 10th of October 2018

• Character Reference Due: 5pm, Friday 12th of October 2018 (applications will not be considered if a character reference isn't received)

• Notification: Successful and Unsuccessful Athletes will be notified by Friday 9th of November 2018.
Online Application
The online application must be completed in one sitting.
Please click here to download the online application help sheet (PDF Version)

Candidate's Reference
A character reference must be received by AMASDF by 5pm 12th October 2018.

This character reference must come from a non-family member, eg. coach, instructor, school principal, teacher, employer, an association member.

The application will not be considered without a character reference.

Please scan and email the character reference to: amasdf@nswsnowsports.com.au

Current Membership Number
A current Ski & Snowboard Australia (SSA) Paying Membership Number is required. This is not a Free Snowracer ID number.

If you do not have a current Ski & Snowboard Australia (SSA) Membership please click here
Successful Applicants Paperwork
ASF Form
Successful applicants are required to report on the funds provided by AMASDF by 14th December 2018. Further information will be emailed to successful applicants.
That's a wrap for the 2018 Interschools season. We would like to thank all the school coordinators, team managers, volunteer course officials and families for all your hard work in encouraging, promoting, administrating and participating in the Interschools Snowsports competition. We look forward to doing t all again in 2019!
Congratulations to the 2018 Champion Schools from the Subaru Australian Interschools Championships.
Primary Co-Ed School - Jindabyne Central School
Primary Girls School - St Catherine's
Primary Boys School - The Scots College
Secondary Co-Ed School - Snowy Mountains Grammar School
Secondary Girls School - St Catherine's
Secondary Boys School - The Scots College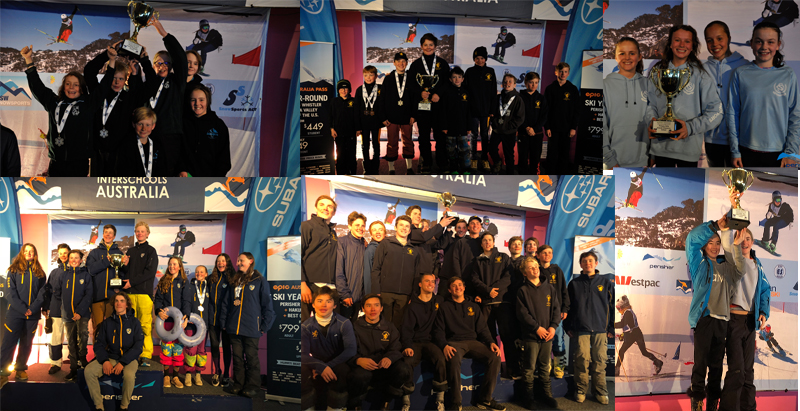 NSW Interschools has stacks of unused race bibs that we would like to pass on to anyone who may be able to use them for school sport or other activities. They come in 8 colours as pictured above. They are mostly single numbers but we do have a run of numbers in numerical order in most colours of either 20-40 numbers.
If you are interested in any number of race bibs, please get in touch at info@nswinterschools.com.au
The full 2019 NSW / QLD / AUSTRALIAN Interschools Snowsports Events Calendar is now available (including the 2019 ACT-Southern NSW dates). The event dates and resort locations are:
The Travelplan Ski NORTHERN NSW and QUEENSLAND Interschools Snowsports Championships - Perisher – Tuesday 9th to Saturday 13th July (5 days).
The Travelplan Ski SYDNEY Interschools Snowsports Championships - Thredbo – Tuesday 16th to Saturday 20th July (5 days).
The SUBARU ACT / Southern NSW Interschools Snowsports Championships - Perisher – Wednesday 24th to Friday 26th July (3 days).
The SUBARU NSW State Interschools Snowsports Championships - Perisher – Tuesday 20th to Sunday 25th August (6 days).
The SUBARU Australian Interschools Snowsports Championships - Victorian Resort TBD – Wednesday 4th to Sunday 8th September (5 days).
CLICK HERE for the 2019-2023 Interschools Long Term Calendar Dates.
CLICK HERE to view the New Interschools Promotional Video.