Travelplan Ski Sydney Championships
The Interschools Race Office located outside the Valley Terminal will only be opened between 7.30am - 9.00am each day. Volunteer Course Officials will need to check in for their courses during this time.
Perisher in conjunction with Ski and Snowboard Australia (SSA) has developed a live timing and scoring system, which is available for at select events at the Subaru NSW State Interschools Championships.
Moguls scores may be available after each of the divisions runs.
CLICK HERE to view the live timing and scoring on snowracer.com.au
CLICK HERE to view the live timing for Front Valley Courses Only
Please remember these times are unofficial and are to be used as a guide only. Please note that the live timing websites could go down at times due to weather or internet connection. Live timing will only be shown when the course is being run.
The official results will be be posted on our website HERE after the event, aiming to be available before the Presentations.
Presentations
Presentations will be held each day at 4.00pm at the The Manor Food Court, Perisher Manor Hotel. The Sunday Presentation will be held at 2.00pm at the V8.
Rule 5.4: No times will be recorded on boards at events. The times specified by live timing or by the electronic clocks are indicative only, and do not represent the actual times in all circumstances. Electronic clocks are used at the discretion of the Resorts and NSW Interschools Committee. No screen shots of live timing will be accepted when protesting against published times, however the enquiries will be investigated as per Rule 6.2.
Interschools Tuesday
Snowgums: 8:30 am (normal operations)
Kozi Chair: 8:30 am (normal operations)
Interschools Wednesday
Snowgums: 8:00am open to public (staff 7:45)
Kozi Chair: 8:00am open to public (staff 7:30)
Interschools Thursday
Snowgums: 7:30am open to public (staff 7:15)
Kozi Chair: 8:30 am (normal operations)
Interschools Friday
Snowgums: 7:30am open to public (staff 7:15)
Kozi Chair: 8:30 am (normal operations)
Interschools Saturday
Snowgums: 8:00am open to public (staff 7:45)
Kozi Chair: 8:00am open to public (staff 7:30)
Lovers Leap station will be open for foot passenger access Monday-Saturday. Foot Passengers must download again via LoversLeap station once finished viewing. No foot passengers access to or from Bunny Walk Station, excluding course officials and Race staff.
CLICK HERE for the RACE SCHEDULE for the Travelplan Ski Sydney Interschools Championships Race Schedule outlining the course location and start times.
CLICK HERE for the Volunteer Course Officials Roster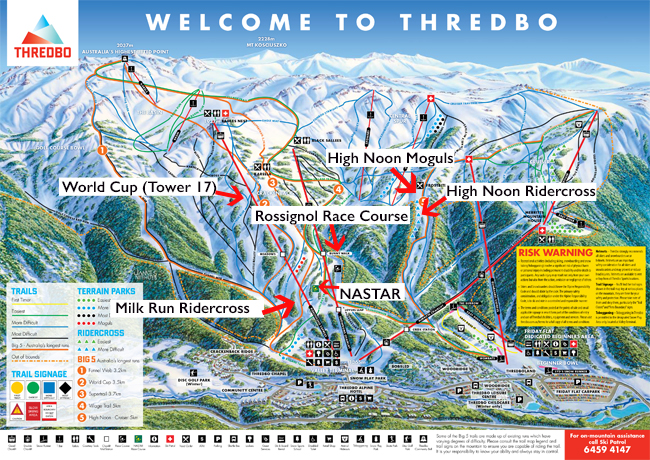 Volunteer Course Officiais Roster
CLICK HERE for the Volunteer Course Officials Roster.
Course Officials Guidelines & Briefings
It is very important that Volunteers understand the various Course Officials positions undertaken at Interschools events before they volunteer. We recommend that all Volunteers read the Course Official Guidelines and/or attend a Course Official Briefing.
Volunteer Course Officials Lift Ticket Collection
Volunteers are entitled to a free of charge lift ticket on the day they are volunteering. This lift ticket can only be used by the Course Official if they do not already have a lift pass or season pass.
Lift tickets are collected at the Interschools Race Office between 7.30am - 9.00am each day.
Course Official Check In
All Volunteers must check in at the Race Office before making their way to the top of the course for the course inspection time. The Interschools Race Office at Perisher is located at the Thredbo Valley Terminal, outside the ticket office. You must check into the Interschools Race Office between 7.30am - 9.00am each day.
When you check in you will be given a folder, officials vest and an option to take a bottle of water and snack pack. Please bring a backpack to put these in. After you have finished your volunteers duties on course you will need to make sure that the folder and vest is returned to Interschools.
What Happens if I can no longer Volunteer?
In the event that you cannot fulfil your volunteer course official's position please make an attempt to replace yourself with another person from your school. If you find a replacement, please make sure that they are either aware of what duties they are fulfilling as course official or that they have read the course official guidelines. If you are not able to find a replacement for yourself, please let Interschools know as soon as possible.
Volunteer Tips
Please be prepared for all weather conditions when you are volunteering on our courses and make sure you have clothing options for all conditions!
Gate keepers can be the most exposed to the elements and will be standing or sitting down for the duration of the course. You will be required to write notes in this position so please bring either inner gloves or similar that you can write with.
For any enquires in regards to volunteering, please contact Wendy on 0422 240 483 or wendy@nswinterschools.com.au
Team Managers can purchase discounted day lift tickets for the day they are a team manager at the ticket office at Thredbo Valley Terminal. Team Managers must have been assigned to teams/individuals in the online entry system.
Event information updates will be sent to coordinators, via SMS, when required. If you are not a school coordinator but wish to receive these updates during the Interschools Snowsports Championships, please call (03) 8506 5776 from your mobile phone. By calling this number, the mobile you called from will automatically receive SMS updates.
If you are a school coordinator, please make sure your mobile number is correct in the online entry system under the "school details" page.
The cost per SMS received will be $0.55. To un-register (once you have registered) simply call the same number (03) 8506 5776 from your phone.
Competitor Changes:
As per Rule 2.10: No changes to the names or order of competitors will be accepted after the entry closing date. Substitutions may be considered on account only on illness or injury, medical certificates may be requested. Any changes must be submitted by a School Coordinator or their delegate through the official 'Change of Competitor Form' by 3.00pm the day before the event. Changes are not guaranteed and are at the discretion of the NSW Interschools Committee. Changes to teams will be restricted to direct team member substitutions only. Team changes can only be made to competitors who are already entered in other disciplines at the Championships. Original race bibs must be worn when team changes have been made, except in cases when competitors were not originally entered into the discipline. If a competitor fails to race in their correct race bib after a team change, rule 2.12 will apply.
Team Managers Changes:
Team Managers changes are no longer accepted by NSW Interschools.
You can still purchase the Interschools hoodies and other items of the Merchandise range at https://www.theregattashop.com.au/pages/the-ski-shop
All the competitor names feature on the back of the hoodies and tops.
Hot Shots photographers will be capturing action shots from the race events all week. Jump online to check out the images.
CLICK HERE to see your images, and purchase high res images online.
User Name - Skier
Password - 2017
Download 2018 NSW/ACT/QLD Iinterschools Events Dates and Schedule
(1.41 MB)
Download 2018 Calendar of Important Dates
(1.41 MB)
Download 2018 Interschools Handbook
(1.06 MB)
Download Course Official Guidelines
(1.8 MB)
Download 2017_interschools_rules_of_racing
(884.33 KB)
Download 2017 Interschools Moguls Competition Guide
(2.21 MB)
Download Interschools Slopestyle Competition Guide
(450.9 KB)
Download NSW Interschools 2017 - Risk Management Policy
(1.72 MB)
Download NSW Interschools Code of Conduct
(673.18 KB)
Download NSW Snowsports Media Policy
(118.97 KB)
Download NSW Snowsports Privacy Policy
(128.63 KB)